SPECTREARTS Presents: Lullaby of Loss A Duke MFAEDA Thesis Exhibition by Brenda L. Burmeister « Back to Events
Date(s): Mar 28, 2014 - Apr 18, 2014
Time: 12:00am
Location: Spectre Arts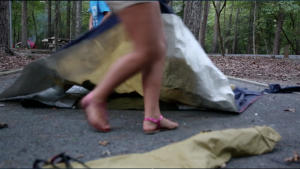 March 28 – April 18, 2014
A Duke MFAEDA Thesis Exhibition
by Brenda L. Burmeister
There is a cost to knowing.
Evidence of loss.
Attempts at intimacy.
A choice for the audience.
Using film, sculpture and audience participation, Lullaby of Loss consists of four installation works: Temporary, Hush-A-Bye,Missing and Family Album. Each piece seeks to create an intimate portrait of the experience of single motherhood within the broader conversations of loss, family rituals, and confession.
From the mundane, collaborative practice of pitching a tent on a family vacation in Temporary, to the ordinary but heartbreaking tradition of saving a child's baby teeth in Missing, to the artist's devised ceremony of collecting letters/confessions from single mothers in Hush-A-Bye and Family Album, each work employs family rituals as a framework.
The audience will be invited to create their own confessions and to interact with the outdoor sculpture.