The Durham Art Guild presents "Dwelling" featuring paintings by DAG member artist Jacqueline Dulin « Back to Events
Date(s): Mar 6, 2014 - Mar 31, 2014
Time: All Day
Location: Golden Belt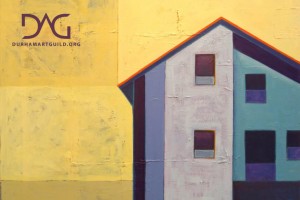 On view in Room 100 Gallery March 6 – March 31, 2014.
Join us for a public reception on Third Friday Durham March 21 from 6-9pm
About the artist:
What makes a portrait? What characteristics or mannerisms about a friend or loved one allow us to identify them from a distance without clearly seeing their face? Is it their walk? A certain stance?
What began as the study of the formal elements of art inspired by the random and brightly colored homes seen on a recent trip to the war-torn country of Kosovo, evolved into works that reflect a familiar relationship to a "Kosovo house." Although all the paintings in this series is not of the same house, the repeated structure in most of these works are of a particular house where the artist taught an art class to Kosovo students, and it therefore holds significant memories for her.
Just like a new acquaintance, this series first focused on getting to know the obvious: the geometry of the architecture, color, and texture. As the paintings matured, the "Kosovo house" became an intimate friend with a personality expressing different moods. It no longer needed all the details of windows and doors to identify it and naturally became more abstract.
The compositions are heavily determined by the open space that encompasses the structures. These works consist of layers upon layers of both opaque and transparent paint to create planned and unplanned depth and texture. All works are oil on canvas.
Originally from the D.C. area, Jacqueline earned her Bachelor of Fine Arts in Painting and Art History from James Madison University. Her professional life was spent as an interactive designer where her decade-long experience included tenure with the Smithsonian's Freer and Sackler Galleries and with the U.S. Holocaust Memorial Museum in D.C. Her museum adventures have also included being a touring docent at the North Carolina Museum of Art in Raleigh.
Jacqueline's works are exhibited throughout the Triangle area and are held in private collections nationally and internationally. She and her husband are preparing to move to Kosovo as volunteers with an NGO (fall 2014). Jacqueline will open her next studio in Kosovo and plans to use the visual arts as a means to work with Kosovar youth.