The Durham Art Guild presents "Twisted Tongues" drawings and poems by DAG member artist Jenny Eggleston. « Back to Events
Date(s): Jan 4, 2014 - Feb 2, 2014
Time: 6:00pm - 9:00pm
Location: Golden Belt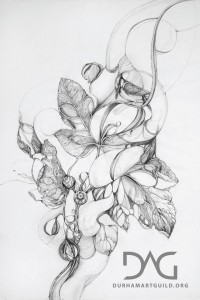 The Durham Art Guild presents "Twisted Tongues" featuring drawings and poems by DAG member artist Jenny Eggleston.
On view in Room 100 Gallery at Golden Belt January 4 – February 2, 2014.
Join us for a public reception during Third Friday Durham on January 17, 2014 from 6-9pm.
About the artist:
Artist Statement
"Twisted Tongues"
Recent and Selected Drawings and Poems
I try not to plan a drawing, only to respond to a basic mood, to explore. Most of my drawings are the result of a juxtaposition of my observations of nature and my own mental landscapes. These biological studies are superimposed against things not so facile, not so easily interpreted or assimilated. Depictions of beauty in the natural world distort as physical matter and imaginative matter mingle and resonate.
I often title many of my drawings with short, image-driven poems. Not as reverse illustrations, but as co-creations, standing independently, while influencing one another.
Artist Bio
Jenny Eggleston is a Raleigh, NC-based artist, poet, and teacher. Classically trained as a nature illustrator, she now works in a surrealistic manner to create figurative mindscapes that are emotive, sensual, disturbing, and beautiful. She is currently working in graphite.
Jenny received a Bachelor of Arts degree from the College of William and Mary in Williamsburg, VA, and did graduate work at Virginia Commonwealth University in Richmond, VA. She also studied fine arts abroad in Cortona, Italy through the University of Georgia under the artist John D. Kehoe.
She has had a number of solo shows in 2012-13; The Rocky Mount Imperial Arts Centre in Rocky Mount, NC, The North Carolina Botanical Gardens Gallery for Botanical Art and Illustration in Chapel Hill, NC, The Halle Cultural Arts Center in Apex, NC, at the 311 Gallery in Raleigh, NC and at the Ravenscroft Gallery for Fine Arts in Raleigh, NC.
Jenny Eggleston is the owner of Egg in Nest Art Studio, providing instruction in drawing, painting and basic design.